Spend Christmas in Melbourne in 2023 | Christmas Wonderlands, Light Displays, Santa's Village, and More!
Table of Contents
Melbourne, one of the most liveable cities in the world, has a Christmas celebration that you must experience once. Australia's Melbourne sparkles during December when it's Christmastime, with public celebrations, lights, markets, and more! This year, if you are looking for a beautiful festive celebration, visit the city of Melbourne with your loved ones and enjoy everything the city has to offer.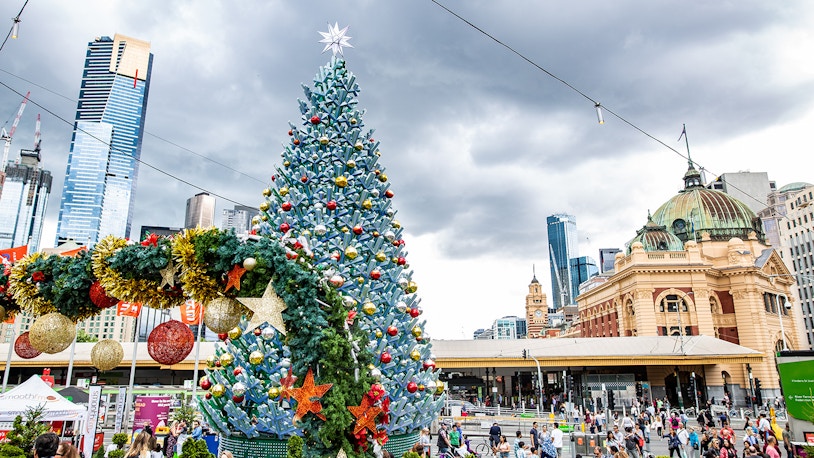 Why Spend Christmas in Melbourne?
Melbourne has many Christmas markets set around the city where you can do some festive shopping and buy souvenirs to take back home.
Take part in a grand celebration at Melbourne's Federation Square, where a large Christmas Tree is decorated with ornaments and lights.
Watch displays and lights from the streets. Melbourne is a beautiful sight during Christmas, with all the buildings glowing in festive colours.
Join the Festival of Lights celebration at Melbourne's Adventure Park, where you can watch installations, displays, performances and decorations.
Watch fireworks at 12 AM while eating doughnuts at the parks in Melbourne like the locals. Many parks in the city are the hub for Christmas celebrations.
Top 12 Things To Do During Christmas In Milan
Frequently Asked Questions About Celebrating Christmas in Melbourne
Is Christmas a good time to visit Melbourne?
If you're looking for an amazing Christmas celebration this year, you should definitely visit Melbourne. It is a beautiful time in the city, as it is decorated with lights and displays, and various events are organized throughout to give you a one-of-a-kind Christmas experience.
What are some things to do in Melbourne at Christmas?
This year, there are many events scheduled for Christmas. You can visit Christmas markets and do some festive shopping. Visit Federation Square to witness a 16-metre-tall Christmas Tree or important landmarks in the city that have festive projections. You can also explore other events like Melbourne's Winter Wonderland, Festival of Lights, Melbourne Myer Christmas Windows, Santa's Village and Christmas Carol performances.
What is Christmas in Melbourne like?
Streets in Melbourne are lit up with decorative lights. Local artisans set up stalls at Christmas markets and sell all kinds of goods. You will also find many events organised around the city that you can visit. Christmas-themed delicacies and desserts are sold at all restaurants and bakeries. The whole city gets into the festive spirit.
What is the weather like at Christmas in Melbourne?
Melbourne has pleasant weather in December during Christmas. The temperature can go from 12°C to 23°C. There are usually no chances of rain. Nights can get a little cold, so you might want to carry a warm jacket with you.
Is Melbourne crowded at Christmas?
There are many events organised during Christmas in Melbourne. Tourists flock to the city looking for a good festive celebration. You must book your tickets in advance if you are planning to spend Christmas in Melbourne.
What's open in Melbourne on Christmas?
Christmas is an important day of business in Melbourne. All malls, shopping centres, theme parks, theatres, opera houses, restaurants and other places popular with tourists are open on Christmas Day.
Are there Christmas markets in Melbourne?
Yes, Melbourne has many Christmas markets where you can buy things at discounted prices. You can also buy snacks from food stalls and refuel while doing your festive shopping at Christmas markets.
What is the most popular Christmas market in Melbourne?
The most popular Christmas markets in Melbourne are Artisan Christmas Market, Queen Victoria Market, Heide Christmas Market and Eltham Design Market.
Are restaurants open on Christmas in Melbourne?
Everything is open in Melbourne during Christmas. Restaurants have elaborate menus with dishes and drinks to choose from. You can also eat at local food stalls set inside Christmas markets, public squares, fairs and carnivals.
What are the best places to stay in Melbourne on Christmas?
Central Business District, Docklands, South Yarra, Southbank, East Melbourne and Albert Park are the best places to stay in Melbourne on Christmas. These areas are closer to the best events on Christmas in Melbourne, which will make your commute easier.
What should I eat in Melbourne on Christmas?
Melbourne's seafood is quite popular during Christmas. You should try Kingfish Ceviche, Murray Cod, Green Chicken Curry Pie, Crab Sticks, Barramundi, Tim Tams, Meat Pies, and Chicken Parmigiana. Some desserts you should eat are Pavlova, Lamingtons, Beetroot Cake, Anzac Biscuits, Caramel Slice, and Fairy Bread.
What are the best restaurants for Christmas in Melbourne?
Some of the best restaurants that serve delicious food during Christmas are Osteria Ilaria, Sunda Dining, Tipo 00 and Sixty Smith. You should also try desserts from Bakemono Bakers, Austro Bakery, Laurent Bakery and Agathé Pâtisserie.
Where can I see the Christmas lights in Melbourne?
Melbourne is beautiful during Christmas as all places and buildings are lit up with Christmas lights and decorations. You should go to Flinders Street, Chapter House Lane, Hamer Hall and Melbourne Town Hall to watch Christmas lights in Melbourne.
What are some Christmas traditions in Melbourne?
Carolling is an important tradition in Melbourne. There are many Christmas Carol performances in theatres and opera houses in the city. People also like to flock up to Federation Square and stay till midnight watching the Christmas Tree and enjoying the carnival.