Melbourne Skydeck | A Definitive Guide to the Eureka Skydeck
Contents
Quick Facts About Melbourne Skydeck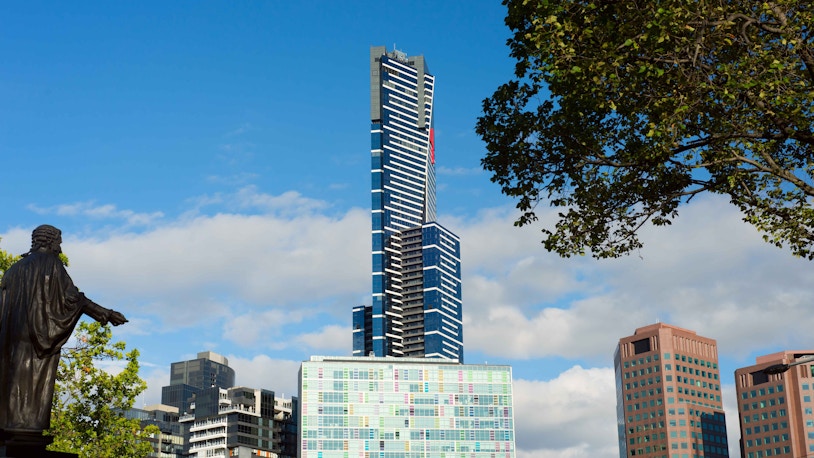 Official name: Melbourne Skydeck
Address: Eureka Tower, 7 Riverside Quay, Southbank, Melbourne
Date of opening: 15th May 2007.
Architectural style: Modern and contemporary skyscraper design
Speciality: Eureka Tower is the 2nd tallest building in Melbourne and 3rd tallest in Australia.
Function: An observation deck and a platform for visitors to marvel at the panoramic views of Melbourne's skyline and surrounding areas. It also features fun activities and gourmet dining experiences.
Why Visit Melbourne Skydeck?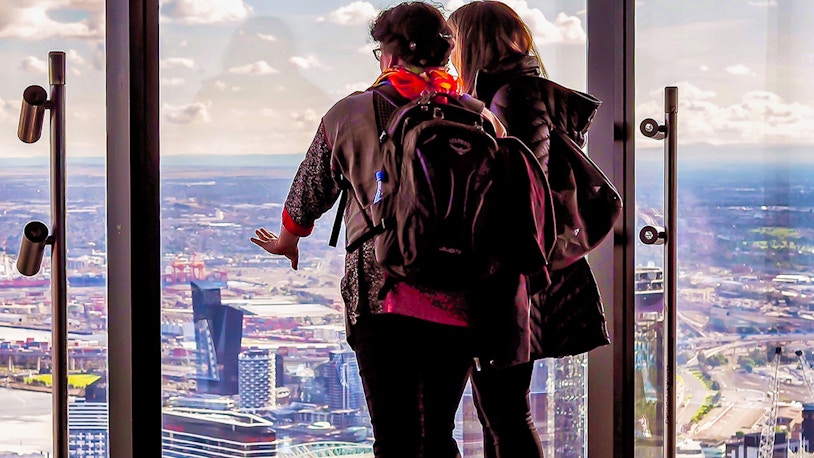 Sweeping Panoramic Views: Marvel at breathtaking, 360-degree views of Melbourne's stunning skyline and beyond.
"The Edge" Thrill: Dare to step into the exhilarating glass cube that extends out from the building, giving you the sensation of floating above the city.
Sunset Spectacle: Witness Melbourne's skyline transform into a canvas of vibrant colours during a captivating sunset.
Sky-high Photography: Capture Instagram-worthy shots from the best vantage point, immortalising your visit to the Skydeck.
Gift Shop Delights: Take home unique souvenirs and mementoes, including a mini Eureka Tower, to cherish your Skydeck adventure.
Urban Wonderland: Observe the bustling city streets, winding Yarra River, and architectural marvels from a birds-eye perspective.
Plan Your Visit
Book Your Melbourne Skydeck Tickets
Combo (Save 18%): Melbourne Skydeck + Melbourne River Cruise Tickets
More details
Combo (Save 13%): Melbourne Skydeck + SkyBus Tullamarine Airport City Express Tickets
More details
Eureka Tower Architecture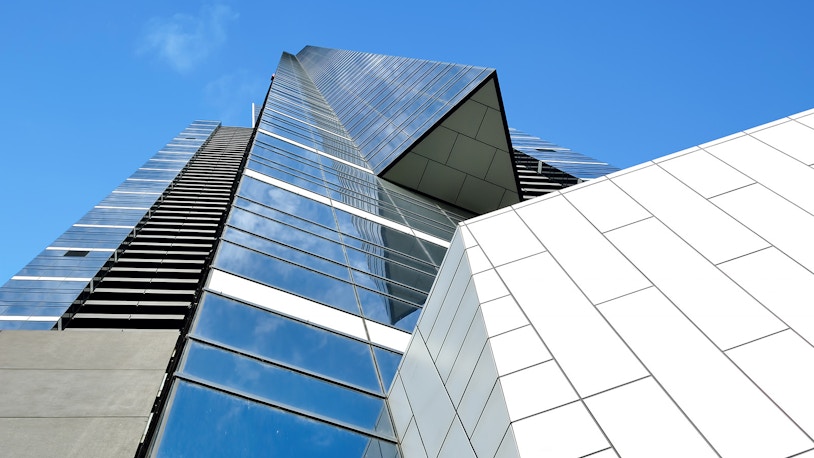 Modern Architecture
The Melbourne Skydeck is perched atop the magnificent Eureka Tower, a modern architectural marvel that graces the city's skyline. Designed by the esteemed Fender Katsalidis Architects, this soaring skyscraper embraces a contemporary architectural style that captivates the imagination.
The tower's distinctive design features a gold-coloured crown, symbolising the Eureka Stockade's historical significance. Its sleek, streamlined exterior reflects a sense of modernity, while the glass facade allows for unobstructed panoramic views.
The architectural elements of the Eureka Tower emphasise a harmonious blend of functionality and aesthetics. Its structural integrity is achieved through a reinforced concrete core, ensuring stability and safety for its residents and visitors.
Plan Your Visit to Melbourne Skydeck
Opening Hours
Location
Accessibility and Facilities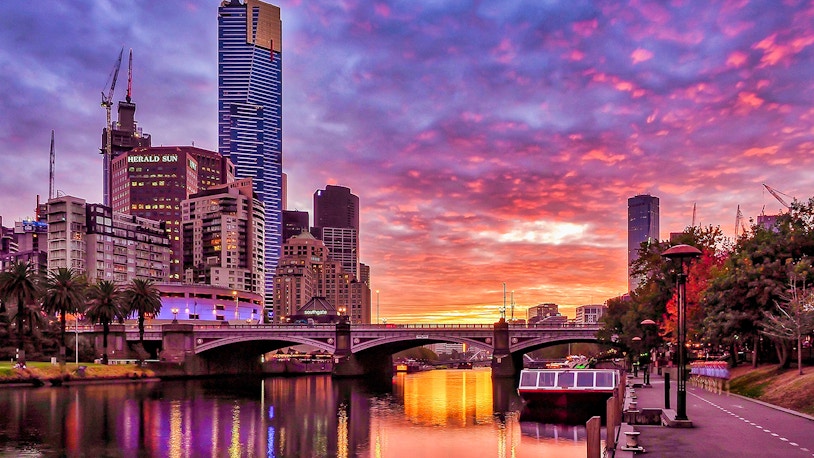 Melbourne Skydeck Opening Hours
Till Oct 1st 2023
Thursdays to Sundays: 12 PM to 9 PM; last entry at 8:30 PM
Fridays, Saturdays: 12 PM to 10 PM; last entry at 9:30 PM
For a less crowded experience, consider visiting during weekdays or earlier in the morning.
Best Time to Visit: To avoid larger crowds, consider visiting the Skydeck during weekdays, especially in the morning or late evening. Sunset times offer magical lighting for photography enthusiasts.
More on Melbourne Skydeck Opening Hours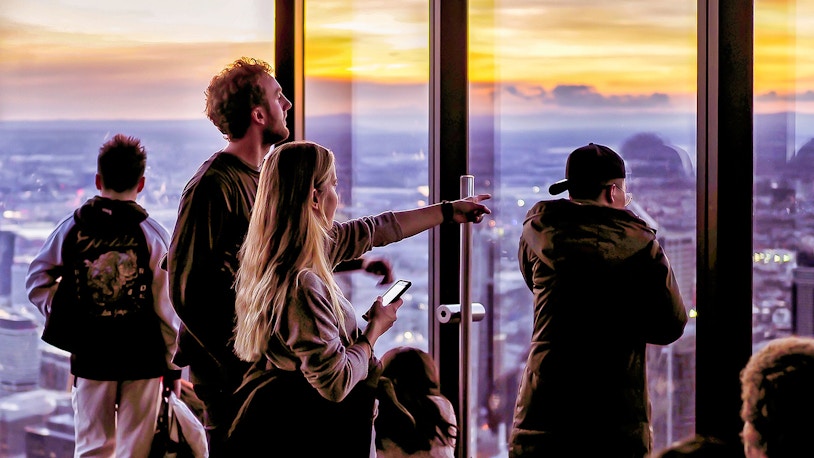 Melbourne Skydeck Location
Located in the vibrant city of Melbourne, the Skydeck is perched atop the iconic Eureka Tower.
Address: 7 Riverside Quay, Southbank, Melbourne. Find on Maps
The attraction is conveniently situated in the heart of the city, near the banks of the picturesque Yarra River.
It is within close proximity to popular landmarks like Federation Square and Flinders Street Station.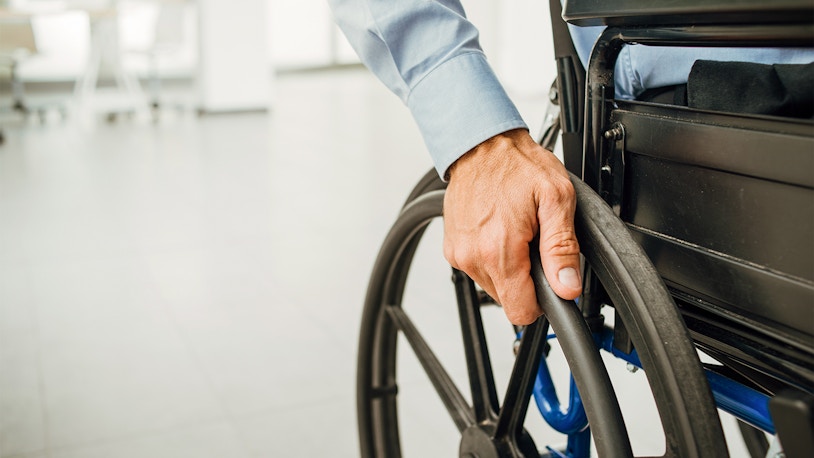 Wheelchair Access: The Melbourne Skydeck is wheelchair accessible, with elevator access to the observation deck.
Convenience: Restrooms and seating areas are available for visitors' convenience.
Free-wifi: You can use free wifi provided by the building while at the attraction.
Shop: A gift shop at the Eureka Tower sells authentic Skydeck merchandise.
Restaurants: Indulge in fine dining and delicious cocktails at Eureka 89 and Bar 88.
Melbourne Skydeck Restaurants
Frequently Asked Questions About Melbourne Skydeck
What is Melbourne Skydeck?
Melbourne Skydeck, also known as Eureka Skydeck, is an observation deck situated 297 metres high up the Eureka Tower in Melbourne.
What is the main purpose of Melbourne Skydeck?
The main purpose of the Melbourne Skydeck is to provide visitors with a unique opportunity to admire the stunning skyline, appreciate the architectural brilliance of the Eureka Tower, and experience the exhilaration of being high above the city.
Is it worth visiting Melbourne Skydeck?
Absolutely! The Melbourne Skydeck offers panoramic views of the city that are truly breathtaking. It's a chance to witness Melbourne from a whole new perspective and create unforgettable memories.
How long should I spend at Melbourne Skydeck?
Plan for at least 1-2 hours to fully immerse yourself in the awe-inspiring views and indulge in their interactive experiences like "The Edge" if you're up for a thrilling adventure. While your admission tickets give you access for 45 minutes, an upgraded ticket that includes some VR experiences will let you spend up to 2 hours at the venue.
Can I take photographs at Melbourne Skydeck?
Yes! Capture the mesmerising views of Melbourne to your heart's content. The Skydeck offers countless photo opportunities, so make sure to bring your camera or smartphone and snap away.
Are there any dining options available at Melbourne Skydeck?
There is Bar 88 situated on the Skydeck itself that serves delicious cocktails. Or you could head over to the gourmet restaurant Eureka 89 just one floor above for a dinner with stunning panoramic views. Learn more about the Melbourne Skydeck restaurants.
Can I purchase tickets in advance for Melbourne Skydeck?
Is Melbourne Skydeck accessible for people with disabilities?
Yes, the Melbourne Skydeck is wheelchair accessible, ensuring that everyone can enjoy the panoramic views. Elevators and ramps are available, and staff members are ready to assist in making your visit comfortable.
Can I visit Melbourne Skydeck during bad weather?
The Skydeck remains open even during rainy or cloudy weather. While the views might be different, it can still be a unique experience. However, in cases of severe weather conditions, it's always good to check for any temporary closures or restrictions on the official website.
Can I buy souvenirs at Melbourne Skydeck?
Yes, there is a gift shop where you can find a variety of Melbourne-themed souvenirs, including miniature Eureka Tower replicas, postcards, keychains, and more. It's the perfect place to find a special memento to cherish your visit.